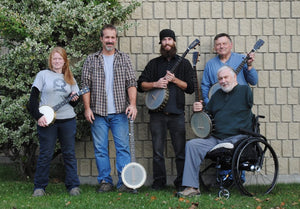 Welcome Message From Bill Rickard
When I first started building banjos, I never imagined that my hobby would grow into the Rickard Banjos company that exists today. As Rickard Banjos launches its new online store and website, I would like to take this opportunity to thank both our loyal customers, and the wonderful team at the Rickard Banjos shop for countless years of support.
I have always striven to design and build high-quality products that honour both the best characteristics and traditions of old-time music instruments. You'll notice that many of our banjo models now feature audio and video clips, and that our products are organized in a way that makes finding whatever you may need for a new build or restoration as simple as possible. Please take a look around, and do not hesitate to contact us if you have any questions about your next banjo project or purchase.
Again, I would like to extend my sincerest appreciation and thanks to everyone in the community that has supported Rickard Banjos over the years. It is my hope that you will continue to find joy in the music that you make and discover. Having the opportunity to assist you on your journey would be one of my greatest pleasures.
Sincerely,
Bill Rickard
Rickard Banjos
---